It's the old entry-level economics theory of supply and demand. High supply and low demand makes for lower priced goods. But this isn't the case for lithium. Right now we're seeing an almost perfect climate for the white metal.
There is high demand and low supply, with miners flocking to brine-rich areas of the globe. The result? The lithium market continues hitting new highs almost EVERY WEEK. This is why investors have started to look at junior mining companies like Liberty One Lithium (LRTTF) to take advantage of and get direct exposure to this industry. For investors, the ride has been good and could get even better solely based on simple economics.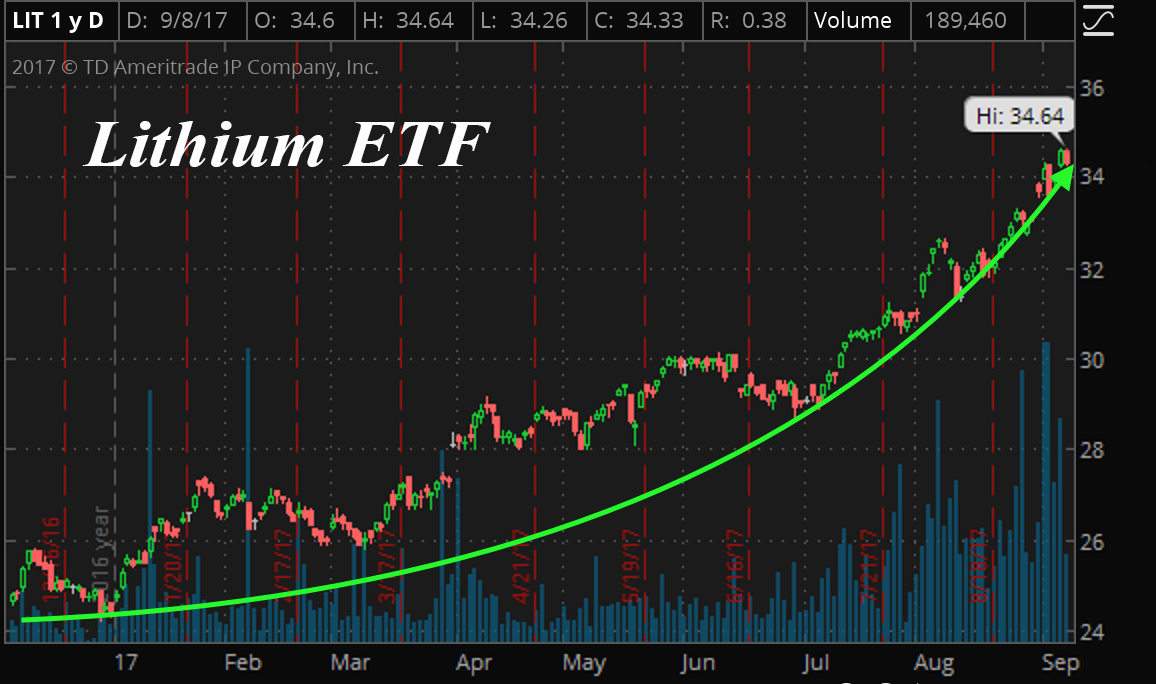 With automakers anticipating an increase in production of electric cars over the next few decades companies like Daimler, for example, have begun construction on a $562 million lithium-ion battery factory in Germany. The German automaker wants to bring 10 new electric models to the market by 2020
Can lithium producers meet demand? Although there's plenty of lithium around, the problem is making sure there is enough available capacity to process it. Battery makers and other end-users like car manufacturers will need to sign multi-year deals that encourage large producers to invest more, and faster, according to industry sources. According to Morgan Stanley analysts, the production and use of electric cars is projected by to rise to 2.9% of 99 million new vehicles in 2020 and to 9.4% of 102 million new vehicles in 2025. That's up from just 1.1% of 86.5 million in 2017.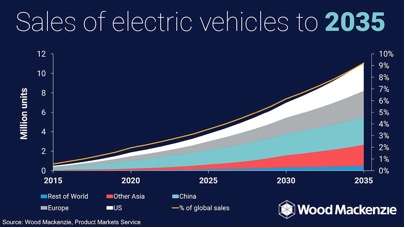 THE MORNING REPORT
Start your workday the right way with the news that matters most.
Your information is 100% secure with us and will never be shared Disclaimer & Privacy Policy
This Is Why Investors Are Looking At History Of Junior Miners To Pick The Next Lithium Stock To Go The Distance
With last year's purchase of rights to explore 6,078 hectares in Clayton Valley, Lithium X Energy  became the single largest holder of rights in the Valley. Critically, its acreage surrounds the current deposit mined by the world's No.1 lithium producer Albemarle Corporation , and several holes are within 1,000 feet of existing ALB production.
Lithium X also has two on-going projects in Argentina. Earlier in 2017, it closed a 100% interest in a 33,846 hectare project with 11 mining claims across one of the region's largest know salt lakes, and it's currently performing resource estimate studies at nearby Sal de Los Angeles.
Nemaska Lithium Inc.  is headquartered in Quebec City, and has a primary operation of "exploration and evaluation of hard rock lithium mining properties and related processing of spodumene into lithium compounds in Canada."
In early 2016 the company began to announce progress and updates on capital raising and plant operations. Around this time, the stock was still relatively in its infancy, trading around $0.35. As Nemaska began making headway, hitting milestones, and raising new capital, shares began to steadily climb as high as $1.50 with current trading levels hovering around $0.80.
Now, Liberty One Lithium (LRTTF) Has Begun To Cause A Stir
Millennial Lithium  is the company who's just engaged with Liberty One (LRTTF) for an option agreement in Argentina and is another clear example of the true potential that pre- discovery junior lithium companies.
Following its name change (where the stock price was around $0.55 CAD or roughly $0.41 US), Millennial began implementing its leadership team as well as raised capital and began to enter into exploration and purchase agreements.
From the time of its name change took place to the time it announced that it had entered into further options agreement for more Argentinian lithium operation acquisitions, the near 3-month stretch had seen the stock climb to highs of $2.45 CAD.
Millennial may have chosen one of the best juniors to do a deal with as far as new lithium mining companies go. Liberty One Lithium (LRTTF) has closed on a new option agreement for a property in one of the hottest lithium regions in the world, South America. Specifically (LRTTF) has entered into a Mineral Property Option and joint venture agreement with Millennial Lithium.
But investors looking at (LRTTF) today, could be seeing the company on the verge of a major development; one that could be the difference between "just another lithium company" and "This is the lithium company to watch this year"!
Here's why: (LRTTF) is moving rapidly toward developing this project. Why say this? The main reason is what the company announced on August 18.

(LRTTF) announced results from its geophysical survey at its Pocitos West property in Argentina. (LRTTF) has detected a probable brine horizon extending throughout the entire 29 km length of Liberty's mining property, suggesting the potential for lithium to exist beneath much of the Company's 160 km2 licensed area. The survey also indicates that the depth of the conductive horizon is as much as 150 meters thick in a number of target locations.
The property has already shown, historically, that based on previous drill testing, the Pocitos salar basin had averaged roughly 417 parts per million of lithium and over 15,000 parts per million of potassium! The goal and intent of Liberty One Lithium has been to move ahead with its initial NI 43-101 report so this could be the calm before the storm
Just think about seeing a gold miner right before it strikes gold…though (LRTTF) hasn't "struck gold" (yet), these are the steps junior miners are taking to aggressively plot out a clear strategy toward production. Based on what Brad Nichol CEO of Liberty One Lithium stated in that August release, it would also seem that the outlook for this project could be exciting to say the least,
"The results, and proximity on-trend to known lithium brine production 25 km to the north of our holdings, suggests the potential for the continuation of lithium brine beneath much of our property…Liberty is well positioned to leverage the three most important core values to our board and myself: location, team and capital management." – Liberty One, CEO, Brad Nichol 
Playing In Tesla's Playground?!
What's more is that the new location for Liberty One (LRTTF) is where Tesla has already begun to visit; the Salta province. This has been described as "the Saudi Arabia of Lithium" , an important material for Tesla's batteries, and now we could see Liberty One ((LRTTF)  take a key role in the prospects of this "ground zero" region.
Just to give an idea of the location's potential, historical sampling of Millennial's flagship location revealed Salar contains brines with a density of 1.2+ and Li contents of 400mg/l to 600mg/l, with some values exceeding 3000 mg/l lithium. Not only has (LRTTF) entered into an agreement with one of the foremost in this prolific region BUT they've also done so by targeting a project in the back yard of a major flagship project, which has already demonstrated extreme potential for lithium brings.
Just a few years ago, the famous Salta-Antofagasta rail line began operating again and other key lines around lithium-producing areas have had investments granted. This means that the province of Salta once again has a cost-effective logistics route to the Pacific via Chile, where lithium can then be exported to China and be turned into batteries for your smartphones.
Additional Opportunity In The US
The company's other prospect is located in Utah's Paradox Basin, which has historically been a source of high-grade lithium-bearing oilfield brines.
Previous oil & gas exploration offers historic data and attractive re-entry economics utilizing existing exploration wells. Furthermore, as far as junior miners are concerned, (LRTTF) has just recently undertaken a multi-million dollar capital raise that will be used to fund the exploration of the recently acquired Paradox North Property.
Significant lithium concentrations have been found in the Paradox Basin region. The Paradox Property exists over an area with historic fluid analysis ranging from 81 to 1,700 ppm lithium in saturated minerals brines according to data from Mining Atlas. Since lithium occurs at the basin in oversaturated mineral brines, it was discovered during oil exploration when drill wells intercepted the main brine zone of the Paradox formation.
The area specifically under observation is the White Cloud area, which is immediately north west of Intrepid's (IPI) Cane Creek Property, which currently produces 700 to 1000 tons per day of potash.
Though there has been no testing done by Liberty One Lithium (LRTTF), one 1964 letter suggests that there may be 9 million tons of K2O under the White Cloud area; something for investors to take note of considering the capitalization of the company via its most recent raise.
In March of 2016, Elon Musk (Tesla's CEO) himself stated, "In order to produce half a million cars a year… we would basically need to absorb the entire world's lithium- ion production." The Wall Street Journal backed this up as well stating, "Tesla and other electric-vehicle makers are swallowing up lithium for its use in lithium-ion batteries that power electric cars."
According to banks like Credit Suisse, demand for lithium could outstrip supply in 2020 by 25%. At that point, the world is expected to need over 380,000 tons of lithium (reported as lithium carbonate equivalent or "LCE").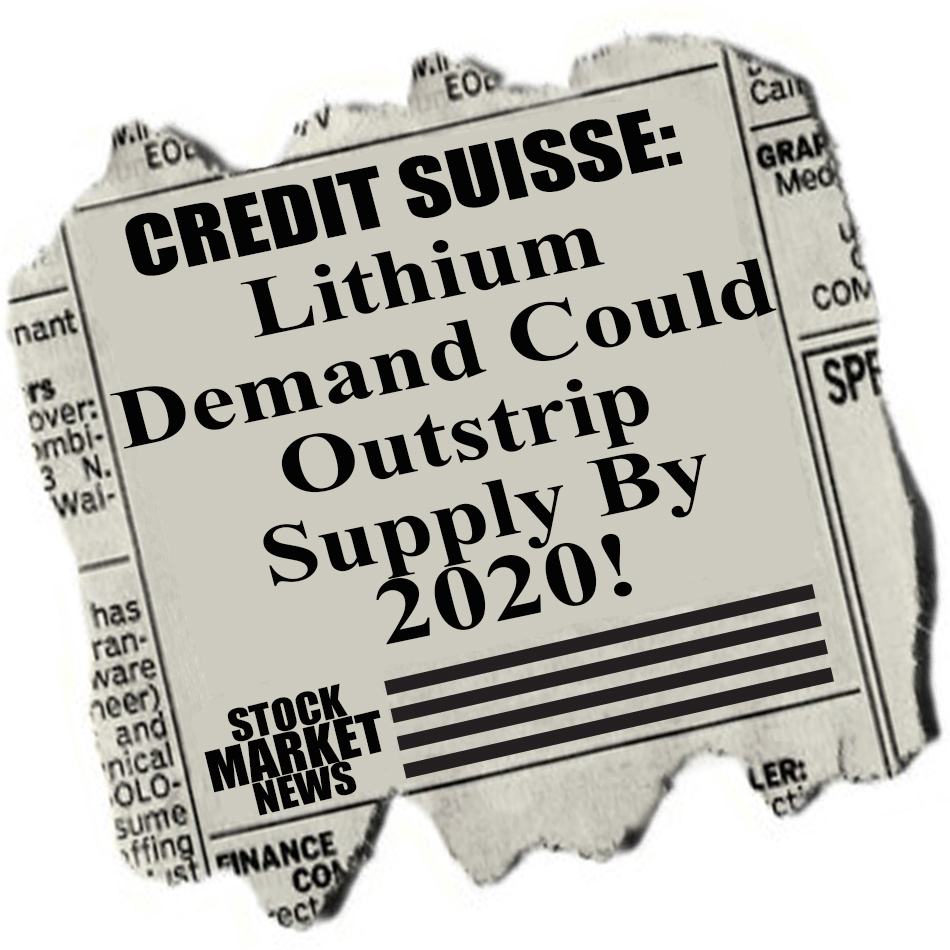 Considering the demand number was in the neighborhood of 190,000 tons in 2014, that's 100% growth in demand over a six-year period. Much of that growth will come from batteries.
This rampant demand supports the idea that companies will need to be liquid in order to achieve the growth rates required by companies like Tesla. Therefore, financing will be a must for many juniors and Liberty One Lithium (LRTTF) has just closed on its previously announced multi-million dollar non-brokered private placement.
Details of this additional tranche were further released in the company's filings via SEDAR. The total amount of money closed was CAD $4.2 million and the company has already earmarked it for operations and working capital.
A $6,253 Investment Would Have Given You OVER $33,078!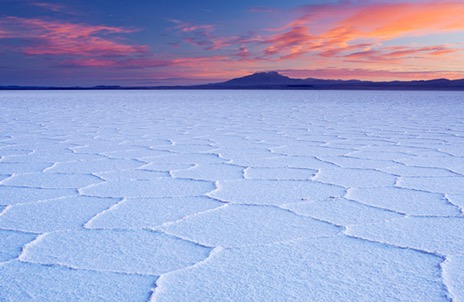 The Importance Of Being First To The Table With Junior Lithium Miners!
If track records are any indication of what could be next for Liberty One (LRTTF) , let's look at some other "juniors" who were in their early stages (not even producing lithium) compare them to where they are today. Also pay particular attention to what the outcome was when the companies first began raising capital and first began to engage claims:
Lithium X Energy – 529% (Starting Level: 0.40) 
Nemaska Lithium Inc.  – 329% (Starting level: 0.40) 
Millennial Lithium  – 345% (Starting level: $0.41)
Key Takeaways To Pay Close Attention To
Investors should take notice that just these 3 examples alone show the underlying potential of looking at junior minors ahead of any production, exploration, or even operations. 
Each of these companies started in their infancy stages around $0.35-$0.41 and once they began to target financing, exploration, and options agreements, the markets woke up and share price began to climb 
In conjunction, these key breakouts saw prices soar anywhere from 329% to 529% within the matter of months. With the average percentage return being 401%, that means an investment of just $6,253 would have ended up becoming OVER $25,000! 
Right now, (LRTTF) is flirting with the higher end of that starting price range and has just begun to make announcements of closing on financings and engaging in majority interest options agreements including one with Millennial Lithium in one of the most attractive regions of the world for lithium, the Lithium Triangle in South America.
Liberty One Lithium (LRTTF) is aggressively moving forward to prove out a resource in the Lithium Triangle via a major joint venture. This is also coming at a time that Liberty One is bringing on key board members, raising millions in capital, and diving straight into multiple areas of prolific lithium exploration.
Liberty One Lithium (LRTTF) has just announced better than expected results from its geophysical survey. These were so much higher than expected that the company has stated that "based on the compelling results of the geophysical survey, the logical next step is to initiate a drill campaign on the property to test for chemistry, lithology, permeability and porosity. Also, the Company has undertaken to provide all data necessary to obtain the requisite environmental and drilling permits. 
Is Timing Perfect Right Now?
(LRTTF) was introduced in April. What was known was that they were looking to target the Paradox Basin North Property and possibly others, while also actively raising several million dollars in capital.
Fast Forward to today and now the company closed on financing, deployed new financing at higher price levels, and engaged in new projects that are within very active areas of the world through option & JV agreements with one of the most notable junior lithium miners in the market.
Keep in mind that those who waited on companies like Millennial, Nemaska, and Lithium X because they were "just exploration stage companies," ended up missing out on some of the biggest movers within the lithium sector. Right now Liberty One Lithium (LRTTF) is trending in a range between $0.40-$0.50; similar to where many of these other juniors started their epic runs.
So, now you need to ask yourself, "Based on the eerily similar timeline, price point, and recent announcements that Liberty One Lithium (LRTTF) has released, compared to the previously mentioned companies that saw incredible gain opportunity, is now the time to have this stock in your lithium portfolio?"
---
Pursuant to an agreement between us and Pyronix Media we have been hired for a period beginning 4/10/2017 and ending 5/10/2017 our agreement has been extended an additional 30 days ending June 11, 2017, and expects to be compensated up to an additional $150,000 cash. to publicly disseminate information about Liberty One Lithium Corp. (LRTTF) including on the Website and other media including Facebook and Twitter. We are being paid $150,000.00 (CASH) for or were paid "ZERO" shares of restricted or un-restricted common stock. We own zero additional shares of (LRTTF), which we purchased in the open market. We plan to sell the "ZERO" shares of (LRTTF) that we hold during the time the Website and/or Facebook and Twitter Information recommends that investors or visitors to the website purchase without further notice to you. We may buy or sell additional shares of (LRTTF) in the open market at any time, including before, during or after the Website and Information, provide public dissemination of favorable Information. Pursuant to an agreement between us and Pyronix Media we have been hired for a an additional period beginning 6/20/2017 and ending 7/20/2017 we've been compensated an additional $50,000 cash. Pursuant to an agreement between us and Pyronix Media we have been hired for a an additional period beginning 7/20/2017 and ending 8/20/2017 we've been compensated an additional $50,000 cash. FULL DISCLAIMER HERE