sponsored content
When it comes to powering electric vehicles (EVs), lithium has been getting all the attention. But "lithium battery" is a misnomer. Not only is cobalt just as crucial as lithium, it's also the most expensive raw material in these high-demand batteries. So while the race is on for lithium, there's fervent competition to mine cobalt. And nowhere is demand for cobalt greater than in China, which currently holds the title for world's largest gigafactory.
Sure, there are cobalt reserves in Australia, Africa, and Canada. But when it comes to supplying the gargantuan Chinese market, sourcing supply from Indonesia is much more cost-effective. Pacific Rim Cobalt [CSE: BOLT, OTC: PCRCF, FRANKFURT: NXFE], with property holdings on Indonesia's northern coast, is a Canadian-based exploration company focused on the acquisition and development of production-grade cobalt deposits. Located a straight shot across the Pacific, Indonesia's cobalt deposits happen to be some of the closest, most abundant, and most reliable cobalt supplies for Chinese battery manufacturers.
Asset Plus Strategic Location – The Enviable Combination
A picture paints a thousand words. Take a look at this map.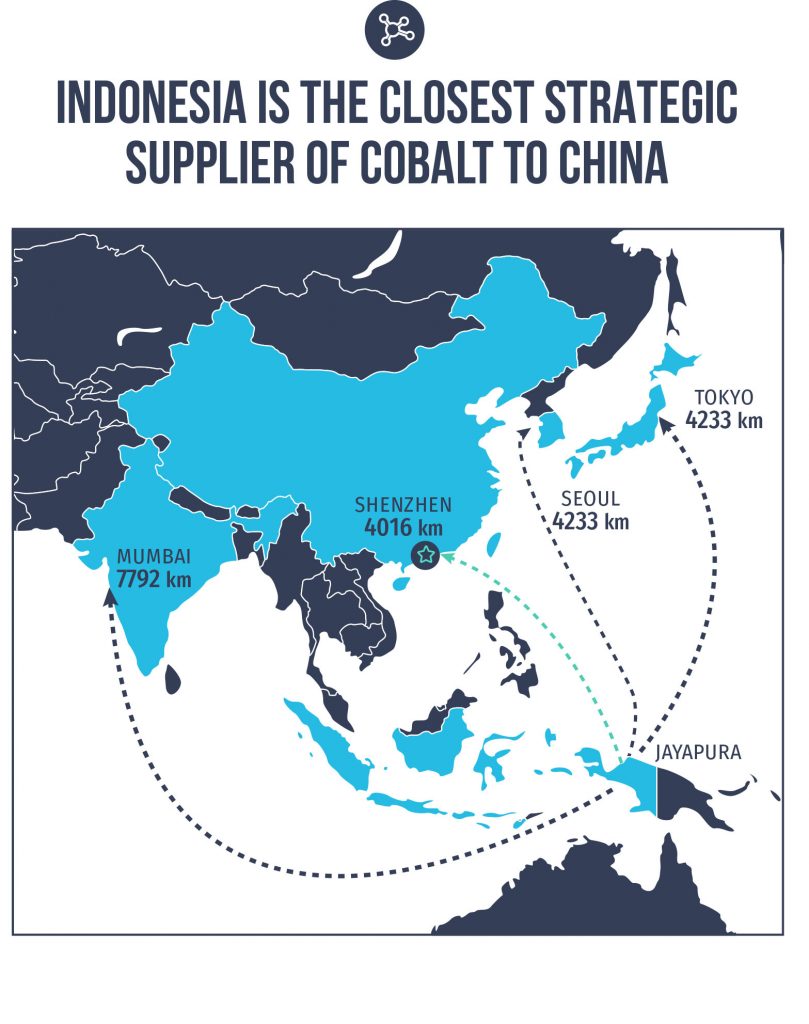 Pacific Rim Cobalt [CSE: BOLT, OTC: PCRCF, FRANKFURT: NXFE] is just over 2,100 nautical miles from southeastern China's industrial region, and in close proximity to manufacturing centers in Korea and Japan. Nothing stands between Indonesia's northern coast and Asia's largest lithium battery manufacturers. Australia? You need to navigate around Indonesia first. Africa and Canada? They're not even on the map. And though many equate Africa with cobalt, there are very worrisome geo-political issues within the Democratic Republic of Congo (DRC), the primary mining center.
Success isn't just about being in the right place: it's also having the right set-up. Pacific Rim Cobalt [CSE: BOLT, OTC: PCRCF, FRANKFURT: NXFE] is located in Indonesia's Papua province, known for its reliable transport infrastructure and political stability. It's in excellent company; Freeport McMoran's [FCX] Grasberg Mine—the largest gold mine and second largest copper mine in the world—is also situated in the Papua province. But when it comes to cobalt, Pacific Rim's 5,000 HA has the potential to be one of the largest sources of cobalt outside of Africa.
The rush for lithium batteries and cobalt
Renewable energy is one of the farthest reaching, most visible, and pressing issues facing the planet. Out of the viable contenders for the next generation of large-scale energy, lithium-ion batteries have emerged as the front runner.

THE MORNING REPORT
Start your workday the right way with the news that matters most.
Your information is 100% secure with us and will never be shared Disclaimer & Privacy Policy
Price is all about supply and demand. Up until 2016, supply and demand were running even for cobalt, but just take a look at what's happened this year and what's projected: a huge and rapidly widening gap.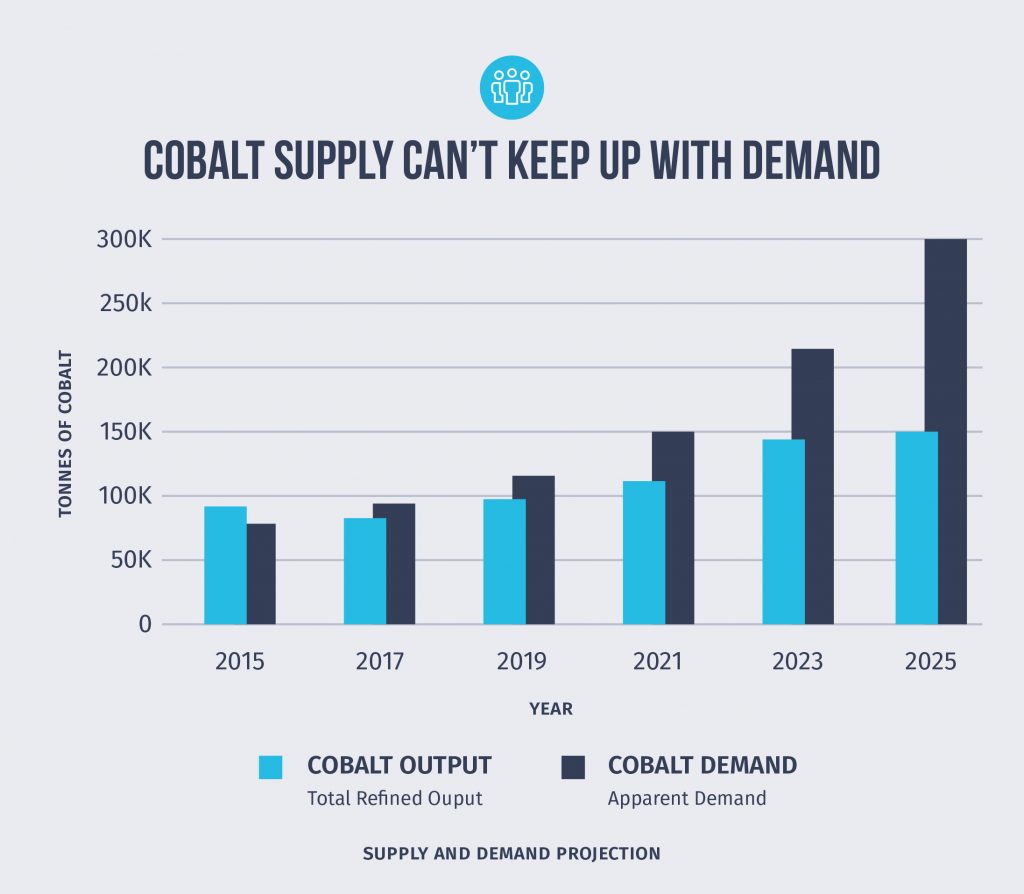 We all know from Econ 101 that when demand outpaces supply, prices go up and up. That's exactly what's happening with cobalt. After years of languishing, the price of cobalt is taking off. Current mines can't keep up with supply, requiring new mines to open.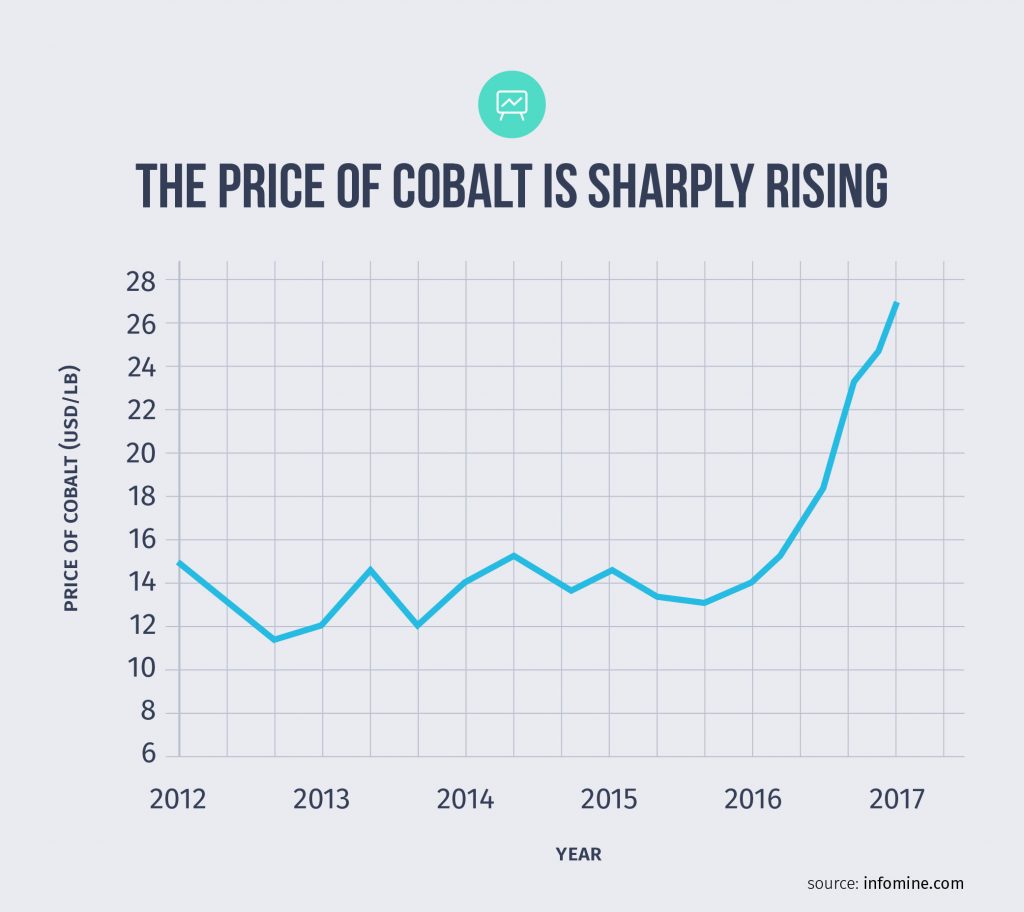 The price of cobalt has more than doubled in the last 12 months, making it 2017's top performing base metal. Today, the spot price of cobalt is edging toward US$35/lb. Some analysts predict that the price of cobalt may go as high as US$100/lb!
Evidence of a Major Cobalt Occurrence
In the 1970s, a consortium led by US Steel undertook extensive mapping, exploration, drilling, and test pitting for nickel. Back then, when they were exploring for nickel, cobalt was just $2-$3 per pound. The 800+ historical nickel drill holes are strong evidence of the potential for significant cobalt mineralization. US Steel couldn't have foreseen the huge demand for lithium-ion batteries and cobalt.
Fast forward to today. Pacific Rim [CSE: BOLT, OTC: PCRCF, FRANKFURT: NXFE] holds 100% control of this prospective project. Pacific Rim is capitalizing on US Steel's groundwork and sitting on a project exhibiting the potential to become a world class asset.
Cobalt gives lithium its power jolt
Lithium-ion batteries have already proven ideal for powering everything from smartphones to entire homes. With their recharging capabilities, the batteries are particularly effective in the fight against environmental and climate issues.
The giant demand for lithium is being driven by the exponential demand for EVs. Major car companies like Tesla, Nissan, Toyota, BMW, General Motors, and more are pushing for significant advancements in EV technology.
Cobalt is the most important metal for increasing the energy density of lithium-ion cathodes. And it's not just EVs; cobalt is crucial to the lithium batteries used for smartphones, laptops, mobile device, and power walls.
Government mandates are leading the rush to lithium batteries
New green mandates worldwide are also huge contributors to this boom. California has placed big money behind low-emission subsidies. Most notably, the California legislature has put forth a bill to ban the sale of fossil fuel vehicles by 2040. Many European countries are also trying to phase out diesel vehicles by 2040. Across the world, governments are pressuring citizens and manufacturers to change their tune from roaring engines to stealth-quiet EVs. All of this is fostering the growing need for lithium.
And nowhere is the race as big as in China. China is motivating the change over to zero-emission vehicles (ZEVs). They're placing penalties on traditional gasoline and diesel vehicles, and putting investments and incentives toward EVs. EV penetration in China is expected to rise from 3% to 20% by 2025—that's a target of 7m EV unit sales by 2025 versus 350k in 2016. And it's not just passenger EVs; China is surging ahead with commercial EVs and electric buses as well.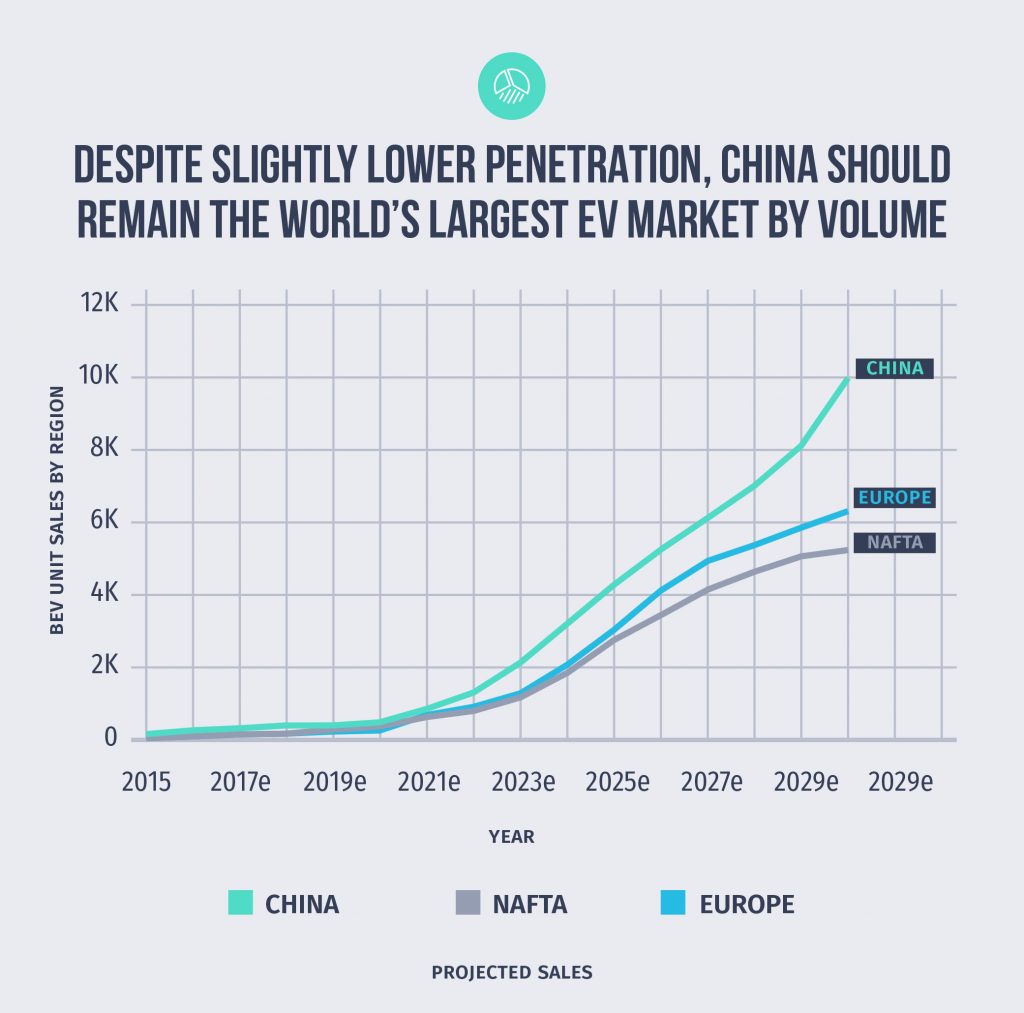 With the push for EVs, the need for lithium-ion batteries will continue to increase exponentially. The next step is to get enough cobalt to meet this demand.
"The US and China have identified cobalt as a strategic metal and are stockpiling cobalt." – USGS 2016
"While the occasional [analyst] questions the availability of lithium to satisfy soaring demand from the battery industry, everybody has overlooked or ignored the most critical mineral constraint – cobalt. It's a truly gargantuan challenge. A gigarisk!" – investorintel.com, March 2016
Analysts predict that China will use over 8,000 tonnes of cobalt annually by 2021—and that's just for electric vehicles. Now compound that use with other electronic applications. The country will maintain its lead as the largest buyer of cobalt for years, if not decades.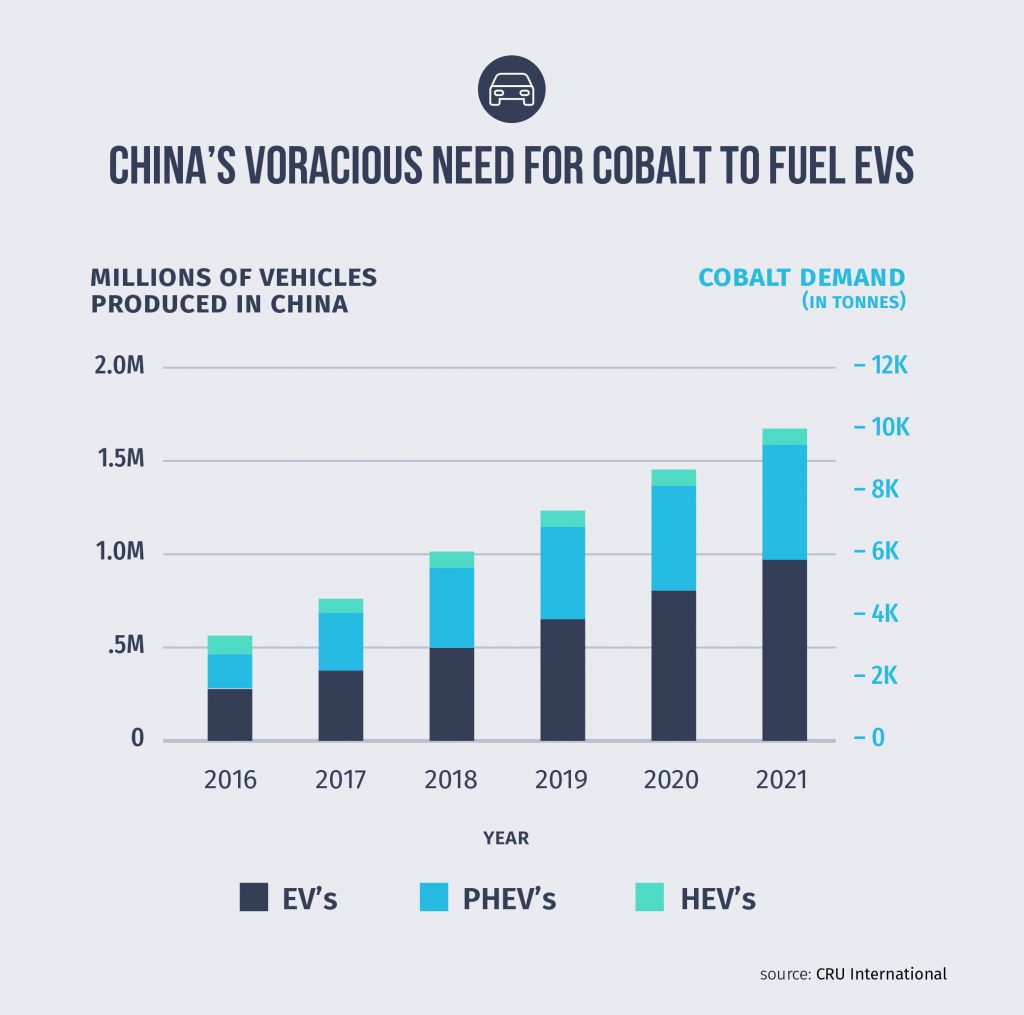 The cobalt market is rapidly climbing
Since last year, valuations for cobalt miners from Australia to Canada have taken a sharp turn up. Even those that are only in pre-production and advanced exploration are seeing strong gains:
Clean Teq [TSX/ASX: CLQ, OTCQX: CTEQF] is the property of mining billionaire Robert Friedland. The stock opened on the OTC at USD$0.33 in October 2016 and is now at USD$1.18—a 257% increase in just over a year! This gives the company a market cap of USD$706M.
eCobalt Solutions [TSX: ECS, OTCQX: ECSIF] has seen its stock double from USD$0.45 in August 2016 to its current USD$599, for a market cap of USD$210M.
First Cobalt Corp [CVE: FCC, OTCQB: FTSSF] is one of the newest entrants to the OTCQB. It opened in March 2017 at USD$0.55 and the 52-week high was USD$1.3041. The current price is USD$1.169, giving it a market cap of USD$226M
Expectations for Pacific Rim Cobalt [CSE: BOLT, OTC: PCRCF, FRANKFURT: NXFE] are high, relative to its pre-production and late-stage exploration peer group, there's major league potential for increased upside valuation.
A "Side" Product with Profitable Benefits
Cobalt and nickel are essential elements in lithium battery production. Now here's the beauty of exploring for cobalt in Indonesia: first, cobalt is frequently a byproduct of nickel mining, and second, Indonesia is the largest source of nickel laterites in the world. The Ni-Co laterites found at Pacific Rim's project contain both valuable elements: find one and you get the other! Pacific Rim [CSE: BOLT, OTC: PCRCF, FRANKFURT: NXFE] is sitting on a development project in Indonesia with high-grade historic cobalt drill intersections. And with large and shallow mineralization, Pacific Rim doesn't have to dig that deep.
Much like cobalt, nickel is also having a price resurgence thanks to its role in lithium batteries. The price of nickel is up approximately 140% in the last 12 months.
The Whole Cobalt Package
Pacific Rim Cobalt [CSE: BOLT, OTC: PCRCF, FRANKFURT: NXFE] is the whole package. It boasts a strategic location with close proximity to China, the world's largest consumer of cobalt. And it already has evidence of strong cobalt and nickel mineralization. The company has a world-class team of technical and operational Indonesian mining experts. Ranjeet Sundher, Pacific Rim's President and CEO, has more than 20 years of Indonesian mining experience.  He was also the owner of one of the largest Indonesian mining services companies. Sundher lives in Indonesia—so he knows the land and what lies below. But all this would be worthless without the necessary environmental and production permits to begin drilling. They are not easy or quick to obtain, but they are essential to ramping up. Pacific Rim's got them.
The upside investment potential for Pacific Rim Cobalt [CSE: BOLT, OTC: PCRCF, FRANKFURT: NXFE] is major. Its recent go-public private placement was significantly oversubscribed and raised gross proceeds of $4.47 million in a matter of weeks. The Company recently closed a secondary financing for an additional CAD$3.6M. The stock is positioned for take off. Here's an opportunity to ride the cobalt power train to profits
Disclaimer:
MIDAM VENTURES, LLC has been compensated $100,000.00 by FULL SERVICE MEDIA, LLC for a period beginning FEBRUARY 23, 2018 and ending MARCH 30, 2018 to publicly disseminate information about PACIFIC RIM COBALT (PCRCF). We may buy or sell additional shares of (PCRCF) in the open market at any time, including before, during or after the Website and Information, provide public dissemination of favorable Information. We own zero shares. Full Disclaimer Here